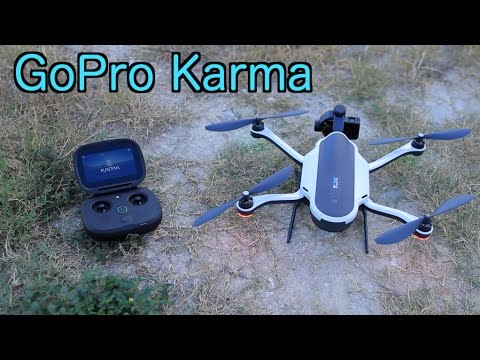 File Name: GoPro Karma: How To Set Up & Fly! GoPro Tip #573
Duration: 9.26
View:: 72.163
Published: 29 Des 2016
Uploader: MicBergsma
This video will show you how to set up and fly GoPro Karma quadcopter.
BUY GoPro KARMA here:
http://amzn.to/2kKpDXs
Check out my store
http://bit.ly/2gvBRyI
for awesome GoPro mounts and accessories
Comment, Thumbs up, Share, and Subscribe!
Want more free GoPro Tip / Tutorial videos - Please support MicBergsma!
Paypal donation:
http://bit.ly/2gOtelW
Send fan mail to:
MicBergsma,LLC
PO Box 340075
Austin, TX 78734
You can buy DJI Phantom quadcopter / other products here :
http://bit.ly/2h2vCGg
Want to learn how to fly and everything you need to know?! Click the link here!
http://bit.ly/2fOIqju
DJI Phantom quadcopter videos:
http://bit.ly/2h2kj0L
Sunglasses I wear:
Fadeddays:
http://bit.ly/2gh1kf0
Nectar:
http://bit.ly/2gOuLZa
- use code 'MICBERGSMA' get 10% off!
*IMPORTANT*
Please only use and share this embed code of the original video.
Third party downloads and distribution is not permitted.
If you are interested in buying footage or for booking information please contact:
[email protected]
Filmed by Mitch & Lori Bergsma
Edited on Final Cut Pro X on Mac
GoPro Tip Intro edit by Erik Lauritzen
Check out his websites:
http://bit.ly/2gQe8d4
&
http://bit.ly/2gUO13L
1st Song: Climbing Through Air 3
Artist: Tomas Skyldeberg
Epidemicsound.com
2nd Song: Ur Not 4 Me T30
Artist: Niklas Ahlstrom
Epidemicsound.com
3rd Song: Electro Pop Nr 4
Artist: Jack Elphick
Epidemicsound.com
4th Song: I Will See You T20
Artist: Jan Chmelar
Epidemicsound.com
Song picked by Lori Bergsma
GoPro Tip Playlists
Hero4:
http://bit.ly/2guNN6e
Hero4 Session:
http://bit.ly/2fTdnhB
Hero 5 Session:
http://bit.ly/2fOCM0M
Hero5 Black:
http://bit.ly/2gOnpVF
Underwater:
http://bit.ly/2gURNtW
GoPro Studio:
http://bit.ly/2guS49J
Accessories / Mounts:
http://bit.ly/2fOIeQX
Comparisons:
http://bit.ly/2ggVObX
DIY/ How To / Test:
http://bit.ly/2gIceuK
Settings:
http://bit.ly/2gUJbn0
******************************************************
Website:
http://bit.ly/2gvBRyI
Instagram Mitch:
http://bit.ly/2gHjIOV
Instagram Lori:
http://bit.ly/2gTT6gH
Google Plus:
http://bit.ly/2gPVmTf
YouTube:
http://bit.ly/2g4i5d5
Twitter:
http://bit.ly/2fTaTzG
Facebook:
http://bit.ly/2gOo8Gd
*******************************************************
Mitch's Scooter Stuff
YouTube:
http://bit.ly/2fK6kHJ
Google Plus:
http://bit.ly/2gIhZZu
Instagram:
http://bit.ly/2fB8gay
Facebook:
http://bit.ly/2gEsYpt
*******************************************************